Terrorism in France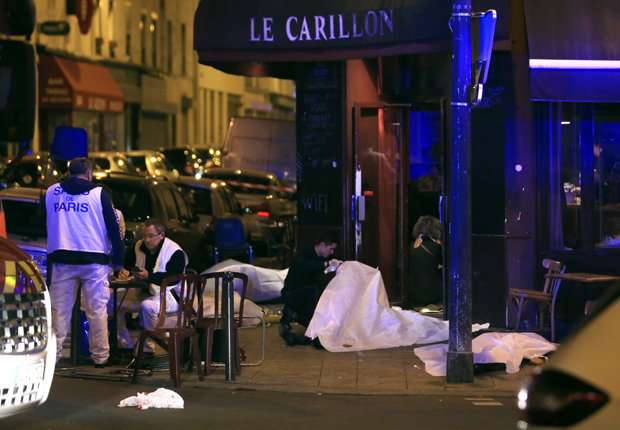 November 2015 Paris attacks: The attackers killed 130 people, including 89 at the Bataclan theatre, where they took hostages before engaging in a stand-off with police. There were 368 injuries, 80-99 serious.
Stade de France
-- Approximately 9:20 p.m. - An explosion occurs outside Stade de France, a sports stadium in Saint-Denis, a suburb north of Paris.
-- 9:30 p.m. - A second explosion occurs outside the stadium. Both blasts happen on the same street, Avenue Jules Rimet.
-- 9:53 p.m. - About 400 meters from the Stade de France, a third blast occurs on Rue de la Cokerie.
-- A total of four people are killed, three suicide bombers and a man who had been walking by.
La Petit Cambodge and Le Carillon
-- 9:25 p.m. - Gunmen, armed with assault rifles, kill 15 people at the intersection of Rue Alibert and Rue Bichat, in the 10th district of Paris. Many of the victims were gathered at Le Petit Cambodge, a restaurant, and Le Carillon, a bar.
Cafe Bonne Biere
-- 9:32 p.m. - At the corner of Rue de la Fontaine au Roi and Rue du Faubourg du Temple in the 11th district of Paris, five people are killed in a shooting outside Cafe Bonne Biere.
La Belle Equipe
-- 9:36 p.m. - Attackers arrive at the restaurant La Belle Equipe at 92 Rue de Charonne. Gunmen fire their assault weapons on people sitting outside the eatery. Nineteen people are killed.
Comptoir Voltaire
-- 9:40 p.m. - A suicide bomber blows himself up inside the restaurant Comptoir Voltaire at 253 Boulevard Voltaire in the 11th district.
-- One person inside the restaurant is seriously injured, and several others are slightly injured.
Bataclane
-- 9:40 p.m. - Three attackers armed with assault weapons arrive at Bataclan concert hall. The gunmen enter the small concert hall and open fire as a performance is underway by the U.S. band Eagles of Death Metal.
-- Eighty-nine people are killed. Gunmen fire upon people as they lay on the floor, killing execution-style, recounts one concertgoer.
-- 12:20 a.m. - French police storm the Bataclan. Three terrorists are killed during the police counterassault. One by police gunfire and the explosives he is wearing. The other two activate their suicide belts and are killed as police raid the concert hall.