Terrorism in United States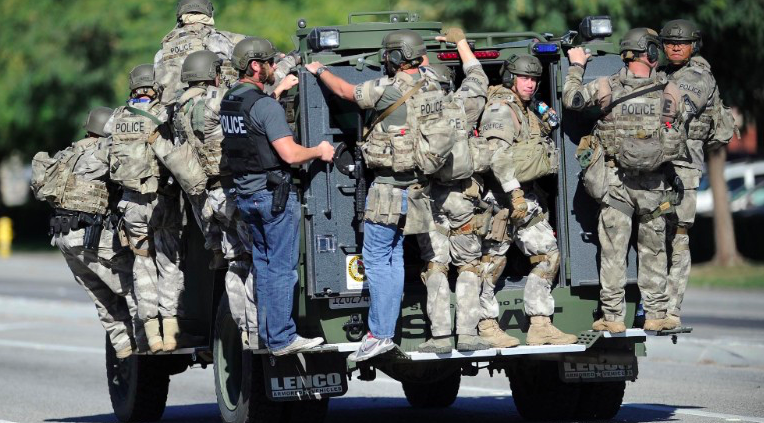 December 2, 2015 Los Angeles: Authorities say Marquez, who checked himself into a mental health facility two days following the attack, legally bought two AR-15 assault rifles that were used by him and his wife Tashfeen Malik to kill 14 people and wound 21 others during a holiday party on Dec. 2 in San Bernardino's Inland Regional Center.
May 3, 2015
Curtis Culwell Center attack
-- Two gunmen opened fire outside the Curtis Culwell Center during an art exhibit hosted by an anti-Muslim group called the American Freedom Defense Initiative in Garland, Texas. The center was hosting a contest for cartoons depicting the Muslim prophet Muhammad. Both gunmen were killed by police. A Garland Independent School District (ISD) police officer was injured by a shot to the ankle but survived. The attackers, Elton Simpson and Nadir Soofi, were motivated by the Charlie Hebdo shooting in France and the 2015 Copenhagen shooting in Denmark earlier in the year. The Islamic State of Iraq and the Levant claimed responsibility for the attack through a Twitter post.
June 17, 2015
Charleston church shooting
A mass shooting took place at Emanuel African Methodist Episcopal Church in downtown Charleston, South Carolina. The church is one of the United States' oldest black churches and has long been a site for community organization around civil rights. Nine people were killed, including the senior pastor, Clementa C. Pinckney, a state senator. A tenth victim was also shot, but survived. 21-year old Dylann Roof was arrested and later confessed that he committed the shooting in order to initiate a race war.
July 16, 2015
2015 Chattanooga shootings
Muhammad Youssef Abdulazeez opened fire on two military installations in Chattanooga, Tennessee. He first committed a drive-by shooting at a recruiting center, then traveled to a naval reserve center and continued firing. He was killed by police in a gunfight. Four Marines were killed immediately, and another Marine, a Navy sailor, and a police officer were wounded; the sailor died from his injuries two days later. The motive of the shootings is currently under investigation.
August 30, 2015
Hospital Bomb Threat in Mississippi
An Iranian national arrested in Hancock County Sunday for allegedly making terrorist threats and assaulting two sheriff's deputies. His actions and threats led to a two-hour closure of the I-10 Interstate near Louisiana state line. Subsequently, the subject was taken to a local hospital, where he's still threatening to kill anyone who isn't a member of Islam or Muslim.
November 27, 2015
2015 Colorado Springs shootings
Robert L. Dear, armed with an assault-style rifle opened fire at a Colorado Springs Planned Parenthood. Two civilians and one police officer were killed, and four civilians and five police officers were wounded before the suspect surrendered. Dear told police "No more baby parts" after being taken into custody.